It seems to be almost summer here for the last few days in early May!  Our staff is bustin'
their buns preparing plants for you and we are now open for the spring months at our garden center and headquarters.
The Garden Center is now open every day 9:00 – 4:30 Monday – Saturday and Noon – 4:30 on Sundays.
Lots of great plants still available continue with our "Inventory Clearout Sale".  This includes lots of Shrubs, perennials and roses.
Also, we are the region's largest growers of BIG TREES!
Some folks have requested that we list our plants on this website but it helps to know that plants and availabilities are in a state of continuous change.
This is why we publish a regular weekly newsletter of what's hot thought the entire season.  Just fill in the application by clicking on the icon in the upper right corner or call our office.
We look forward to seeing you!
Paul Grimm,  President.
PS:  As a spring special offer we have a great selection of bare-root trees freshly dug from our fields.  Call our office to discuss sizes, quantities and prices of available stock.  These need to be planted in the very near future.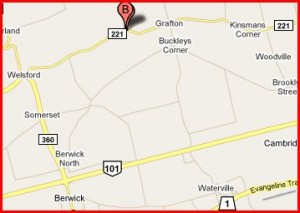 Springvale Nurseries
4796 Highway #221, Berwick, NS, B0P 1E0
Phone:1-902-538-8825    Fax : 1-902-538-9365
Email: mail@springvalenurseries.com
www.springvalenurseries.com

Why Choose Springvale
Atlantic Canada's greatest selection of large sized (caliper) trees.
Huge selection of common and unusual shrubs
Dwarf and regular sized conifers, broadleaf evergreens
Springvale's own production of hardy shrub roses grown on their own roots.
Container grown perennials in a wide variety of sizes
Annuals, hanging baskets, and planters, many unusual and specialty plants
Over 90% of our plants are -"GROWN HERE FOR YOU"
And…that makes all the difference. Springvale plants are happy here because they have already survived our harsh North Atlantic winters.