Hi,   I'm Paul Grimm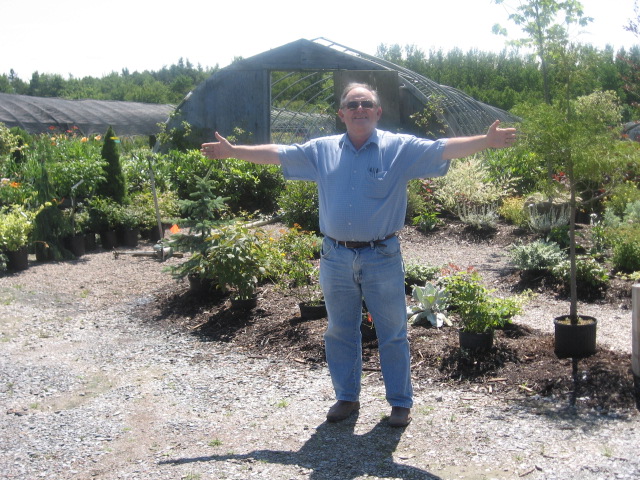 Over twenty years ago my family and I began Springvale Nurseries.  Read our story here.  Over the years Springvale grew to be Nova Scotia's largest wholesale nursery. For many years we didn't sell to the general public.  We supplied only the garden center and landscaping industry markets.  Changes in the industry and increasing competition from non-local nursery products made us reassess our marketing direction.
Because of such an influx of box stores setting up temporary garden centers, many good locally owned businesses were forced to close. Look around and see for yourself how many great small businesses have been destroyed because of this dangerous trend.
Nowadays you can shop in the same store, for the same stuff, in almost every town, all over Nova Scotia, Canada and The United States. The small, family owned shop, with personal service and unique products is a lot harder to find than it used to be.
Many of these great, small companies all over Nova Scotia, New Brunswick, PEI, Newfoundland and even the French islands of St Pierrie et Miquelon were our wholesale customers. Some still are, but times have changed, many have closed, and sadly this market is not able to support our business.
We had to make a change ourselves and since we have the advantage of being growers ourselves, we made the switch from "wholesale only" to opening our doors to the public and making our own garden centers into great shopping destinations in their own right.
We began with a garden center near Halifax which eventually moved to a location at Hammond's Plains, owned and operated by our daughter and son in law Cathy and Daniel Oulton. We then opened our store in Bible Hill and this year we have converted over half of our Berwick production nursery to a retail garden center.
Springvale's New Berwick Garden Center is now located at our production nursery on Highway #221, north of Berwick.
So, we are a local, family owned business with quality products and great service, supporting up to 60 local jobs, these are all great buzzwords for today's more responsible, more ethical shopper. We have had amazing response from our customers who have called us "Nova Scotia's most unique garden center" but…what makes our garden center so unique?
Well, it's huge for one thing. You now have access to most of our container production area and our new retail store is backed up by 75 acres of field production of hardy, locally grown trees. When you are looking at a type of flowering shrub or perennial, you often have 40 or 50 plants to choose from. The visual effect of looking down through the nursery at full blocks of plants in bloom is stunning and surreal. Springvale, as it is, is located in the middle of a very beautiful countryside. The backdrop of the North Mountain, changing season by season, fields of livestock and crops, all of which can be seen from our nursery yard, adds to the experience of being here. It is a lovely place.
More unusual yet, is the "drive in, drive around" facility which makes it fabulous for those with health or mobility problems.  This means what it sounds like. You can drive right to your plant choices and we will load them directly in your vehicle.  Or walk, shop and take your time as you wish.  You will be amazed at the sheer size of the operation what is growing right here, right where you are shopping. Proven winter hardiness and "Carbon Footprint" of almost zero…although we do move them from the potting shed to the greenhouse…
True Bloom Roses – Springvale's unique True Bloom tissue culture roses are propagated in our lab space at Acadia University. We use select tissue culture to produce roses on their own roots, no root suckering or graft incompatibility. Roses on their own roots are distinguishable by the absence of the graft site, a gnarly bump at the base of the plant. No graft means less guesswork in the garden. Suckering shoots are never a problem and you will never "lose" the cultivar because there is no competing rose variety. Our True Bloom series roses are available in more than fifteen popular cultivars and species.
Big Trees. Of course, because we supply and provide professional landscaping and industrial plantings, we have mature specimen trees and shrubs. Where else can you have a 4-wheel drive tour of a nursery field and pick out a 15 foot tree, or a full grown shrub? We don't know where else, but you can come to our place…
Plant Artistry by Sky Silmeryn. Our topiary artist has been working for 3 years now, creating unique "living art" pieces out of hardy plants she selects from our stock. Again, this is a hardiness issue. Like the roses on their own roots, Sky has chosen some non-traditional plants with which to make braided stems, treeforms, spirals, pom-poms and much more. No species that can't take the cold. You will find things here that are simply not available anywhere else, because nobody else does it like our girl, Sky!
I haven't mentioned prices. This is not the bargain basement. The prices are competitive and fair, and there is always something on a good special. We use the absolute best production materials, methods and soils. Our handmade soil formula has not changed over in 20 years. The plants are irrigated with the equivalent of 1 inch of rainfall per day, from natural sources on our own property. These are living things that are raised and cared for by professionals whose families are supported by their work with us. You get what you pay for in this world. These plants are already thriving in the climate where they got started. They are guaranteed to thrive for you.
Are you excited yet about taking a drive out to Springvale? I hope you'll come check us out. Bring your vehicle, some comfortable shoes for walking, your curiosity and questions, because it goes without saying, (even though I'm saying it) we have knowledgeable staff. They are the ones that actually grew these plants. My family and I are really very excited about this venture. It is something people have been asking for all along, and we're only sorry it took this long to try it. In fact, writing this has really given me the urge to go out and walk around the yard, look at the plants and plan what's happening next.
Maybe I'll meet you out there!
Yours truly,
Paul H. Grimm
President, Springvale Nurseries
The Professional Source for Your Gardening Needs!
The largest selection of caliper sized landscape trees in Atlantic Canada
Both common and unusual deciduous shrubs in a broad range of sizes
Both dwarf and regular sized conifers including hedging materials
Broadleaf evergreens for distinctive effects
A wide selection of roses
Vines
Container grown perennials in larger sizes
Potted and specialty trees of many uncommon species
Springvale Nurseries offers personalized services to retail customers, professional landscapers, Garden Centers, Towns and Municipalities
The best selection of hardy landscaping plants for our region, grown here!
Forklift available for loading trees and heavy products
Browse our yard and choose your plants
Regular Specials, promotions and sale priced items
In house Residential Design Service at Hammonds Plains location
Professional, knowledgeable staff available at all times to serve your horticultural needs
More of what you can find at Springvale…
Springvale Nurseries is proud to supply top quality nursery stock grown in maritime conditions to meet your needs. We continue to add new and exciting products!
Special Events: Throughout the season we offer a number of special events, speakers and seminars for your education and pleasure. Watch our ads, newsletter and website for info on these events.
We are member of: