Fall is a Great Time to Plant Trees!
>>>>>THE SEASON IS DRAWING TO A CLOSE!!!!!<<<<<
Big Tree Blowout – Over 200 "Above Ground" Large Large Caliper Trees Available Now
1st Grade, Commercial and Seconds.
We offer any tree in the yard above ground at the following drop dead low prices. We are selling these at a loss to clear out stock.  Here is our cash pick up offer. We can ship if required. This offer is only on "Above Ground" stock.
Planting Service is also available.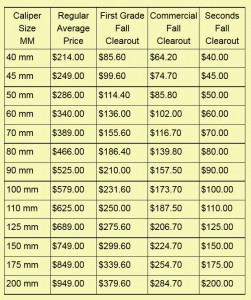 These are awesome rock bottom prices. Your chance for good trees at cheap prices. Terms, cash only. "As is Where is". No warranty, final sale.
If you wish to come see you will need to make an appointment. Staff will not be here all the time from now on. Bring your truck and load up. At these prices they should disappear fast.
Our trees will soon be going to bed for winter…plant now while sale prices last!  
Phone:  902-538-8825, EMail: Mail@springvalenurseries.com
 <<<<<<>>>>>>
(Back to our regular article)
Imagine if you will your property with several, many, dozens or even hundreds of lovely trees of all species and shapes.
Over the past nearly 30 years Paul Grimm and his team at Springvale Nurseries have been growing trees in the Annapolis Valley acclimatized to the conditions of the Atlantic Region.
With over 30,000 trees in production, Springvale has almost anything you might want. "We grow a pretty broad selection of both the native and ornamental species that will perform well in our region." Say Paul Grimm. "And, we can provide you with trees from 3 ft. whips to 10" caliper and over 30 ft. tall!"
Springvale also delivers almost anywhere in the region and for significant planting projects we will travel and provide professional installation.
Our number one recommendation is to come to the nursery, book a field tour and pick out the trees you want for your project!
Hi, this is Paul! I recently ran across this article which I would like to share with you!   Here is the link to the original article.
http://us7.campaign-archive2.com/?u=7337a69ee75ad80e46e86a2ab&id=fbbdac06be
"Get a head start on spring, plant your trees in the fall.

Why I love Fall Planting

Many people are under the impression that spring is the best time for bareroot tree planting. In perfect conditions it might be, that is if you receive your stock in early April and the ground is ready for planting, and we have the right mix of heat and rain which is very rarely the case.

Fall planting is great for many reasons. Here are a few:
1. The tree is very dormant
2. The ground is usually more moist
3. No watering required
4. Soil is easy to work
5. More plant availability in nurseries
6. No bugs
7. Roots can start growing before leaves or buds start to open and grow

When you plant in the fall (late October until early December), you simply plant the tree then protect the graft and add a mouse guard. In our Canadian seasons this is very beneficial because the tree will start making roots early in spring and then once established will start making leaves and branches in June. This means that fall planting could save you a whole season. That is huge in our Canadian climate. On top of that, late spring planting can stress the tree which makes leaves and branches before its roots are established increasing the likelihood of losing the tree the following winter.

The regular rule of thumb when spring planting is: year one roots, year two leaves and branches and year three fruit. You can achieve the first two with a regular fall planting which increases plant size and speeds up fruiting.

To protect the graft during winter simply plant the tree with the graft exposed and remaining one inch above soil level, then mound earth/compost mix six inches higher than the graft at a circumference of 12 inches around the trees base. Not only will this protect the graft in winter but in spring the compost, earth mix will break down and amend your soil, helping roots to activate and grow more quickly. If the soil does not break down simply remove it from around the graft in the spring.


This is the work of mice during the winter. Do not let this happen to your investment!

For plants with no graft just plant them at regular level and then build a mound around the tree. The same fall planting rules apply for shrubs and canes as well.

Most trees and shrubs do very well during fall planting. Some that seem to really prefer fall planting are blueberries and especially sweet cherries that tend to break dormancy early in the spring making them struggle during spring plantings. So if you are planning on planting some sweet cherries the fall is definitely the best time to plant.

Plant now and don't Fall behind (pun intended).

Steve 'The Tree Hustler' Leroux"
This is well thought out and we would add that the same thing pertains to larger caliper wire basket trees as well.
And….BTW! We have a great selection of wire basket tees for fall digging and some great field grown stock for bare rooting as well.
Call us now for a field tour!
Paul