Summer Is Here and Trees Are Ready
When you are a "One Man Band" sometimes the parade marches ahead of you!
This has been the case with our Website posting this spring.
After a brutal winter and slow spring suddenly it is summer and Thank God For That!
We do not have a lot to post today but simply this; Our spring digging is done though we can still harvest some cedars.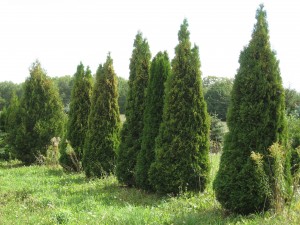 Our 'Above Ground" tree inventory is also completed.
Simply call Donna at Springvale office 902-538-8825 if you have tree requirements over the next few months until fall dig.
We have a small availability of Wire basket trees that are ready to go.
If you wish, we can also plant them for you.
Or why not book a tour to see our trees in the field that will be ready for Fall 2015 and Spring 2016 digs?
Our products can also be accessed through Bloom Greenhouse in Hammond's Plains for those in the HRM area.
Sincerely, Paul H. Grimm