Upcoming Events – This Week and Next
Upcoming Special Events – This Week and Next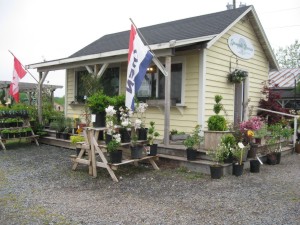 Thanks to so many who have come to check out our 25th Anniversary Sale and special events.  If you like what you are finding, please tell all your friends.  We are finding that Facebook (our new Facebook pages), our email newsletter, and this Website and most of all, Great "Word of Mouth" recommendations from our customers are providing our most reliable traffic to the nursery.
This week we have two special events that you don't want to miss.
 On Saturday the 16th of June between 1:00 and 3:00 pm we will be hosting a presentation by

Jodi DeLong

who will Walk 'N Talk about "How to Extend the Bloom Season".   We can hardly wait to have Jodi, Atlantic Canada favorite gardening guru come to the nursery and present to you!  (It's not supposed to rain but if it does, rain date is Sunday the 17th, same time)
This weekend we are launching a new product line, one which we hope will be an exciting addition to home gardeners.  We will keep you in suspense for a couple more days but check back here to find out more about it before the weekend and this will also coincide with Jodi's visit.
If you like what we are doing at Springvale, please come often, please tell all your friends and join our email newsletter.  We are having technical difficulties with some changes to our website so just call the office (902-538-8825) and Johanne will sign you up!  Our weekly "Hotlists" are the best way to find out what is Kickin' right now.  Plus…updates on our events.
Just an advance notice about the week of the 17th – 23rd.  This week our great Wholesale Price Event" continues and on June 23rd we are holding.
GIANT NURSERY STOCK
AND FARM MACHINERY CONSIGNMENT AUCTION.
JUNE 23RD
We are accepting consignments of equipment that you wish to sell, just call the office to list the item.  This auction will be fun for the whole family.
Nursery stock will be auctioned off in good sized lots, minimum of one pallet which will hold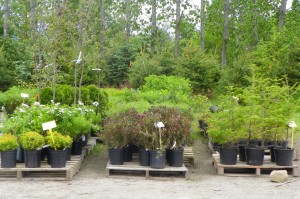 25 or more container plants.  This auction is unreserved and there will be well over 100 lots.
For those interested, we are opening for viewing of the lots at 9:00 am and the Equipment Auction will start at 10:00 and plants will be at 11:00 and will continue until lots are sold.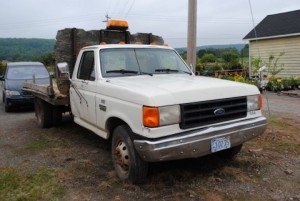 Terms on plants are cash, debit, cheque or credit card.  Equipment will be cash, debit or cheque only.  We will accept credit card payments on equipment but there will be a 2% surcharge.
Refreshments will be available on the grounds.