What Can We Do For You Today? – Here's A "Bakers Dozen" Great Ideas!
What Can We Do For You Today? – Here's A "Bakers Dozen" Great Ideas!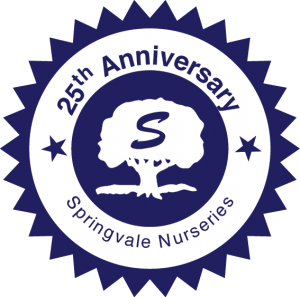 1. Come Visit Our Garden Center! You will find hardy plants, grown here on our farms for you. These plants have been produced by our staff right from the very start, rooted cutting, divisions and seedling trees. This prepares them for long life in our climate.
2. Extra Large Trees: Available in an incredible assortment of species and cultivar. Also, grown here on our farms for you. We call these our "BFT's"! These include trees up to 10" in diameter for those who want instant results and have the resources to pay for them! These require very large equipment to dig, transport and install,
3. Medium Sized Trees: A wonderful assortment of smaller trees is also produced on our farms. These range from 1.5" to 5" and can fit any budget. With effective location these can still provide some amazing instant results.
4. Small Trees: Available in pots of for a very brief time, bare root. You will find trees to fit the smallest budget in this group and plenty of selection available including many wonderful native species.
5. Planting Service: At Springvale we offer professional planting service and residential landscaping to plants those wonderful specimens purchased through our garden center. Obviously, this service is only available within a reasonable distance of the nursery however; regardless of where you live within the region we can often direct you to a qualified landscape installer in your area. We work with the best.
6. Privacy Screening: These days with small lots and houses close together, a privacy hedge or tree row can help make good neighbors. We can supply you with large trees or small plants for hedging and install them to your specifications. Imagine instantly being able to screen off that construction job next door.
7. Smaller Plants for Your Garden: We grow a wonderful selection of shrubs, vines, evergreens and perennials in our container yard and you can show where they are grown. We also feature many large potted sizes in these plants for those in a hurry. Our "Topiary, Standards and Fancies" are created on site by our plant artist, Sky Silmeryn and you will find many unique and unusual pieces. We also feature a small line of material brought in from other nurseries and can often find what you want.
8. True Bloom Roses: Our Springvale True Bloom Roses have been produced from tissue culture in our lab and because they are "On their own roots" you will never again have root suckering from undesirable rootstocks or root graft incompatibility. Our roses Bloom True to their variety always.
9. Native Plants: From the smallest perennials to the largest trees, Springvale specializes in a broad line of useful and functional native plants whose origin is right here on our farms. Our "Natives" are truly native as they began their lives right here many from seed from our own farms and adjacent locations. These are the only "True" native plants.
10. Large Scale Commercial Landscaping: We tackle the very largest projects and have some great success stories behind us on the projects we have completed.
11. Wholesale Supply to the Industry: Springvale has a 25 year history of supplying the landscape, garden centre, municipal and institutional markets with our complete line of products. Contact our office please. We offer, wholesale supply to the industry as well as contract and subcontract installation.
12. Tissue Culture Research and Development: Springvale is unique in the region employing a qualified staff that specializes in research and development on plant species for many uses including site restoration, wetlands compensation, and any other program requiring specialized propagation of plants for mass plantings or commercial uses. Our "True Bloom Roses" are but one of our success stories in this field.
13. Our Fine Staff Who Care about You! Over 25 years spent in the nursery business we have been blessed with an exception group of people who care about their company and our clients…you! Most of them have learned their trade right here by doing and we are proud to have folks who have been with us for most of those 25 years. When you buy from Springvale and many other local growers and retailers you are supporting the foundation of the community, small business whose owners have risked everything to bring you good quality locally grown products. You also provide employment for their staff and help the build lives here without moving away.
JUST BUY LOCAL, IT TRULY MATTERS!