Springvale Nurseries Garden Center – We Regret That Our Berwick Garden Center is Now Closed. Retail Customers are welcome to come to our head office for service.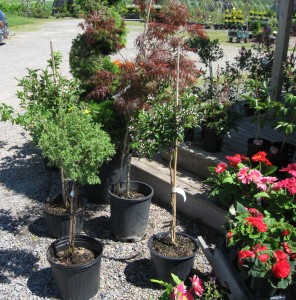 Nestled under the North Mountain on Highway #221 North of Berwick, Springvale Nurseries Garden Center is unique in the entire region.  Springvale prides itself in being one of the very few nurseries and garden centres who actually grow their own plants from scratch.  In most cases the trees, shrubs and evergreens grown on our farms are begun right here from tissue culture propagation, rooted cutting and seed.
Another thing that makes Springvale Garden Center special is the sheer size of the operation.  We are the largest garden center in the region and produce close to 100,000 container plants and 30,000 trees in our fields.  This means an excellent selection and variety to choose from.  And…Where large quantities are required we are able to meet that as well, often producing up to 500 or more of a single item.
If your goal is to landscape your property or you have a commercial project in mind, Springvale is the place to start.  With a very large variety of sizes and species we can fit any budget or project.
Our experienced staff also can provide landscape installations from the smallest garden bed to the largest commercial projects.
We also provide you with the ability to drive around and shop for your plants for those with physical difficulties and mobility problems.  Our staff will guide you to do this if it will help.
Springvale grows a huge selection of large 'Caliper" trees on our farms with sizes up to 10" trunk diameters.  We call these our "BFT'S" (Big Freakin' Trees!).  These can be moved and transplanted anywhere within the region.  Smaller sizes, for example, 2" caliper can easily be transport in a pick-up truck and with a small bit of 'People power" unloaded and planted.  We will do it for you or teach you how to plant them yourselves.
Our "Plant Artist" Sky Silmeryn creates some unique and interesting piece of topiary, bonsai, pompoms, etc.  Each piece a unique plant sculpture.  And…very reasonably priced.
'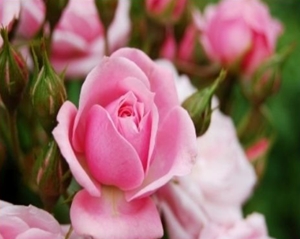 Springvale True Bloom Roses" is another story in its own right.  We have developedthrough our own research team the ability to produce roses on their own roots.  Why is this important?  Most roses are grafted and this creates a point of weakness.  Grafts often fail and incompatibility between the cultivar and the rootstock often creates a situation of reversion of the rose to the rootstock through the generation of unwieldy root suckers which will eventually take over and crowd out the desirable cultivar.
Our True Bloom Roses are available in about 25 cultivars and stay true to their variety over time.  These are all hardy shrub, climbers and bush roses suitable for our harsh climate.
We have a great selection of perennials, shrubs, vines, conifers and trees as well as a few annuals and hanging baskets grown by our Daughter Cathy at Bloom Greenhouses and Garden Centre in Hammonds Plains.
Springvale staff members are among the best in the industry and truly care about you the client.  They will take you by the hand and help you make the best choice for you.  Most of them have worked on our nursery for many years and have learned their craft by doing, the best teacher!
Over the next month June 2012 we are celebrating our 25th anniversary.  Check other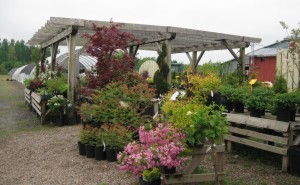 areas within our website and by all means, sign up for our email newsletter (see the tab in the upper right hand corner).  This will provide you with an ongoing source of info about what is happening at Springvale.
We may be a bit off the beaten track but we are worth the trip!
                                                                                                                                                                                                                                 Here are 18 reasons why YOU need to visit Springvale Nurseries Garden Center near Berwick in the beautiful Annapolis Valley. You will be glad you did!  Our customers are raving about what they find and you will too. If you have any plans for purchasing trees or doing other landscaping projects you owe it to yourself to visit Springvale Garden Center location first.
Nova Scotia

's largest wholesale production nursery is now NS Largest

Retail Garden Center.

Over 100,000 plants in our 4 acre container range.

Incredible selection of locally grown, trees, shrubs, broadleaf evergreens, conifers, vines and perennials, and seasonally, annuals.

75 acres of trees growing in our fields, grown here for Maritime conditions, over 30,000 trees to choose from.

Knowledgeable and professional staff that really care about you and your needs.

Springvale can supply any size project large or small.

We also offer you Springvale's professional installation service.

Over twenty year of experience in selecting and producing plants for our climate. Plants grown here for you.

The most dedicated staff who earn their living here producing plants for you.

Springvale's unique 'Tissue Culture Roses" started in the lab and grown for you on their own roots, no root suckering or graft incompatibility.  Our roses stay true to their varieties and are available in more than fifteen hardy cultivars and species.

We offer tours of our field by appointment to choose your own trees for later planting projects.  Digging is done both spring and fall. Choose your perfect specimen.

A large selection of large caliper trees available for immediate planting.  Trees available from 1.5" – 10" trunk diameter and these are BIG TREES.

Check our website for hours of operation and for frequent updates on our special offerings and sales

Until the end of June '12 we are holding a contest for a Pondless Waterfall kit and other prizes. Entries are available on site with purchase and sign up for our newsletter.

"Living Sculptures by Sky" – Sky, our "Plant Artist" creates unique topiary, standards, braids and many other unique pieces especially for you.  Come visit her special plant workshop and meet Sky during our working hours.

Drive In – Drive Around Shopping, a special benefit to folks with mobility or health problems.

Forgive us for bragging but "We are the experts at what we do"

Most of all – We are proud to be local growers and that makes a difference for you.
How to find us:
Take Exit 15 off Hwy 101, Head north on Route #360 (away from Berwick ), 3.6 Km to the stop sign.  Turn right (east) on Route #221 and travel 3.6 Km to the nursery on the right,  You really can't miss it!