Plant Trees for a Beautiful Tomorrow!
Large and Unique Specimens for Your Property
If you want the best results for trees for your property you owe it to yourself to check out Springvale's large tree selection.  Spring is just a round the corner and winter is a very good time to pick those special trees for your job.  
It's the time when you can see the complete and exposed form of the tree in its elegant winter beauty.  As long as we have a minimum amount of snow we can take you to our fields where you can select and tag your trees for spring digging. 
When spring comes we will be ready to harvest your trees and transplant them early for your best possible results.  Or, if you have your own landscape installer you can bring them along to help you choose and they can do the installation for you.  We have an exciting new program for your landscaper and you should ask him/her to give me a call. 
Springvale specializes in very large trees in many sizes and species right up to 20 ft plus and up to 10" caliper (trunk diameter).  We also have a fabulous selection of many unusual and one of a kind items just for that particular spot on your property. 
Watch this site for pictures in the very near future.  You can see individual specimens online and then come see the tree in production.  It is important to note that one of a kind items are just that and can disappear overnight.  However, once you buy it, it is yours, ready and waiting to be harvested, delivered and planted in the spring. 
If you wish, call me for a personal consultation about what is best for your location.  For larger projects involving many trees we are willing to travel.  Unfortunately on projects of less than ten large trees we have to decline this offer but still offer tours of our fields for any size order large or small.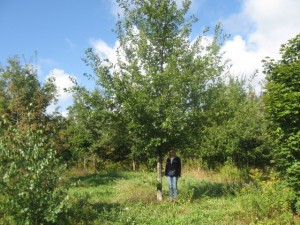 ---